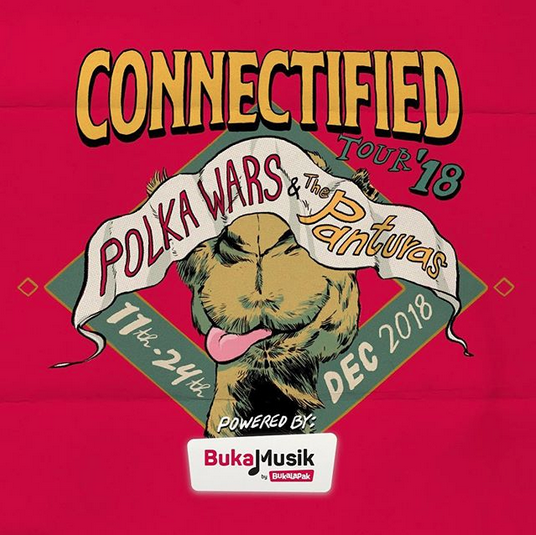 Dua band indie, Polka Wars dan The Panturas, akan menggelar tur bersama.
Tur tersebut mampir ke enam kota di Jawa dan Bali.
Dengan tajuk 'Connectified' yang merupakan akronim dari 'connect and amplified', tur tersebut akan digelar pada 11 hingga 24 Desember 2018.
Adapun kota yang bakal disambangi oleh mereka antara lain
Semarang (12 Desember),
Surabaya (14 Desember),
Bali (16 Desember),
Malang (19 Desember),
Yogyakarta (21 Desember) dan berakhir di
Bandung (23 Desember).
Nantinya, dalam setiap kota yang Polka Wars dan The Panturas datangi, akan ada musisi asal daerah tersebut yang dilibatkan di panggung mereka.
Keduanya merupakan band yang mengusung aliran musik yang berbeda.
Bila Polka Wars bernafaskan alterntive rock, sedangkan The Panturas adalah band beraliran surf rock.